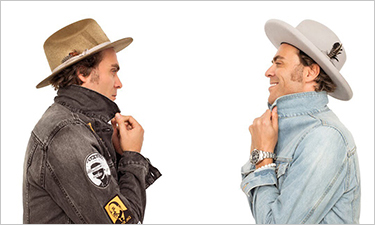 UK born Twin Brothers "EC Twins" are a dominant force within the electronic music industry. Credited as being pivotal players in the explosion of Electronic Music on the USA's nightlife industry & its subsequent crossover into mainstream success.
Holding several residencies & performing at major venues and festivals globally the brothers have also quietly produced remixes for LMFAO, Grammy Award Winners "Dirty Vegas", Grammy award nominee "Andy Caldwell", critically acclaimed indie rock band "Prelow", Billboard R&B number 1 artist "Guordan Banks" and numerous other acts, while also running a ghost production company alongside their busy touring schedule.
The EC Twins infamous, infectious energy at their live shows and unique musical sensibilities has garnered a huge, passionate cult following all of their very own.
More recently, the "EC Twins" brand has brought its own productions to the forefront, signing a deal with Sony Music which saw their single "Revolution" reach 8 million people on Spotify and their remix work with Warner Music/ Atlantic Records help the twins express their unique style and sound, attracting a newfound critical acclaim.
Still unreleased, their next track "Cruel Summer " became the theme tune for SiriusXM Chill, throughout Summer 2017, setting the tone for a surefire hit upon the release date, May 2018.
For 2018 The EC Twins already have scheduled releases with Sony Music, including "The Truth" featuring vocalists Guordan Banks & Debs Daughter. Armada Music with "Cruel Summer". Sony Music with "So Sick". Sony Music with "Lover Lover". Warner Music with their remix of Vinyl Theatres "30 Seconds" and much more.
The brothers demand as remixers is exploding, with many labels approaching the twins to work with and develop new artists and acts.
The EC Twins also produce their own successful events and shows, attracting a capacity audience of over 3000 people to each venue. Using their own fanbase and without the use of a single outside promoter, these events continue to grow. The shows run monthly, alongside more exclusive, boutique events designed to spotlight new artistic movements and live stream the experience on a global scale, a medium that the EC Twins seek to expand upon during summer 2018.
Countless offers for TV appearances and shows based around the EC Twins unique personalities, sense of humor, lifestyle and relationships have been courted, with views to a full on series & project being written and produced in the near future.
2018 is looking to be a very busy year for EC Twins, as two of the electronic music's most influential and successful artists, with one of electronic music'c most devoted fan bases.
Look out for more releases, shows, and projects from this talented Duo, as they pioneer new frontiers in music production and live performance in 2018.